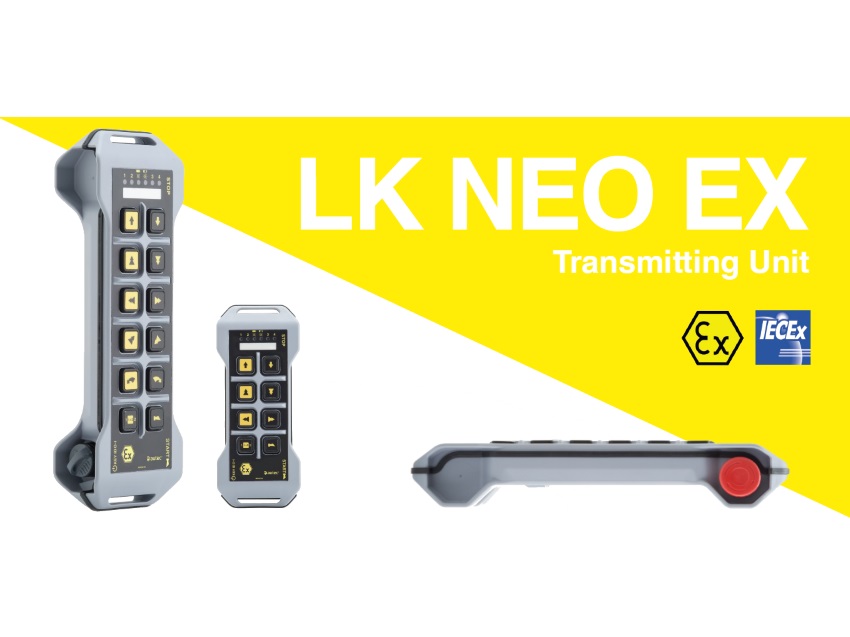 23 January  –  Autec brings to market a new line of ATEX radio remote transmitters 'LK NEO EX'. The previously launched 'LK NEO' control units now have an explosion proof equivalent! The new Ex-line complies with the ATEX directive 2014/34/UE (zone 0/20 or zone 2/22) and the IECEx certification scheme (zone 0/20). Customers have the choice between a 8 and 12 pushbutton model.
The LK NEO EX transmitters are suitable for environments with explosion risks, such as petrochemical, heavy industry, chemicals, pharma, marine & offshore. They can be combined with any of the receiving units in the Autec AIR Series on the condition that the receiver is placed outside explosion-risk zone. An alternative option is to supply a receiving unit inside an ELMA explosion-proof enclosure. Elma Systems has decades of experience when it comes to designing and implementing Ex cabinets and enclosures.
LK NEO EX part of Autec AIR series
The LK NEO EX models are part of the bigger Autec AIR series that includes a wide range of transmitting units (handheld & joystick) and receivers. Customers find suitable solutions for every remote control need in industrial lifting and automation. Some important features specific to the AIR Series are: Dual-Band Radio (433MHz, 915MHz), automatic frequency search at start-up, 4 lights for system feedback and the ability to be used in multiple-unit systems.