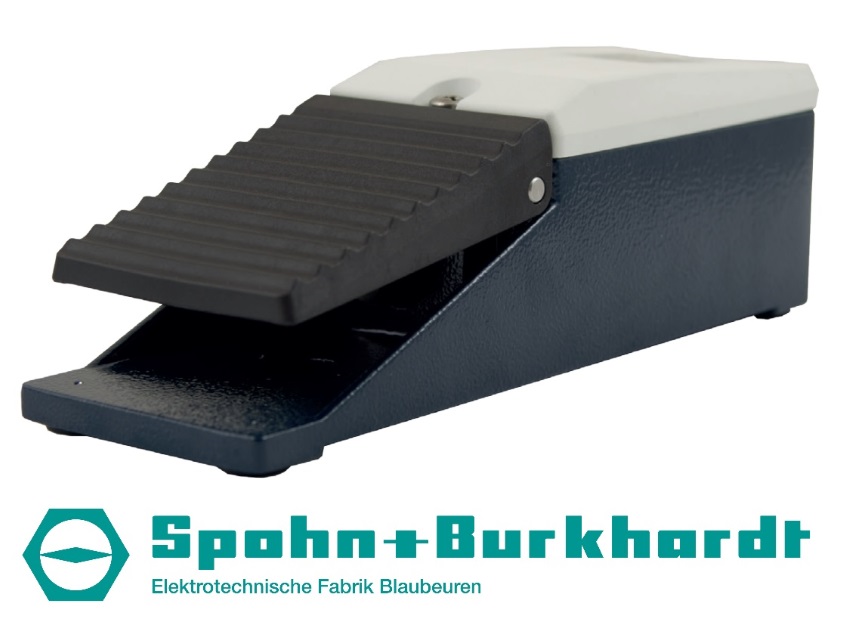 28 August  –  Spohn + Burkhardt launches the new SFM foot pedal with jump switch system and robust aluminium enclosure. This pedal is designed for machine and plant applications that do not allow for manual operation. A reliable and robust foot pedal often is the perfect solution in these circumstances!
Some typical applications for the SFM foot pedal are: metal sheet presses, punching machines, sheet metal forming machines (both for industrial and craft production), mobile cranes. Elma Components is an official sales and service partner for Spohn + Burkhardt foot pedals. Contact us for more info.
Key features of the SFM foot pedal
ON-OFF
single switch contact
230 V – 4 A
IP 65
Robust
The foot pedals from Spohn + Burkhardt guarantee optimal and safe work processes thanks to their technical state of development.
Ergonomics
Healthy and efficient work also depend on ergonomically designed foot switches. For this reason, S+B foot pedals come with a ribbed step plate and heel edge for foot positioning. Spohn + Burkhardt also develops ergonomically adapted foot rests. Versions for surface installation or partially recessed installation are available.
Safety
You can order a metal protective hood for all pedals. Simple and sturdy mountings keep the foot pedals in place so that slipping is impossible.
Durability
The protection rating of the SFM foot switch is IP65. The materials that are used are powder-coated aluminum and stainless steel.