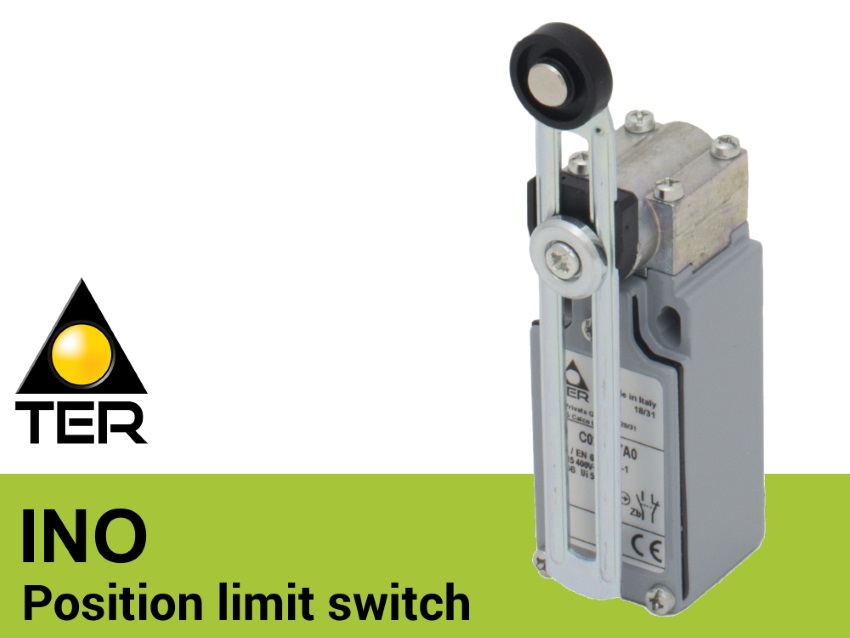 22 October – After the official presentation in TER's General Catalogue, the new INO position limit switch is available for sale as of today!
The new series INO consists of position limit switches (Standard, Wired and Safety) designed to control the movement of overhead travelling cranes, hoists and complex machine tools.
Position limit switches INO are available with casings made of fiber-glass reinforced UL-VO thermoplastic, zinc alloy (zama) or aluminum, with 2 or 4 fixing holes, different width and different cable entries (30 mm with 1 cable entry, 35 mm wired, 40 mm with 1 cable entry, 50 mm with 2 or 3 cable entries and 60 mm with 3 cable entries) and the switches have a mechanical life of up to 30 million operations.
TER's new position limit INO switches are classified IP65 and IP66, while the series INO Wired, having thermoplastic material or die-cast metal casings, sealed with epoxy plastic at the base where cable entries are, is classified IP67. Equipped with up to 39 different types of metal, technopolymer or aluminum heads, limit switches INO are designed to resist extreme temperatures from -40°C to +70°C.
Please, visit the TER-Elma website to read more on the new INO position limit switch.