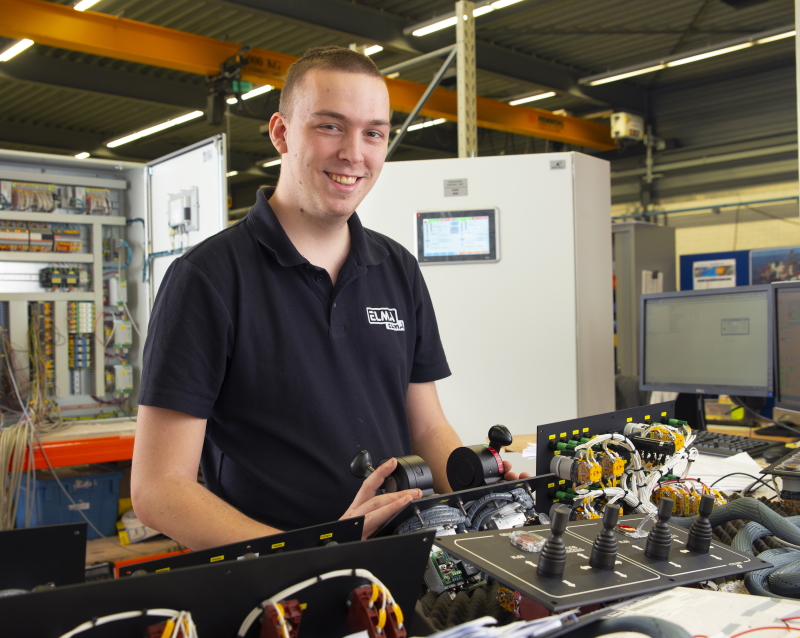 'My position with ELMA creates a lot of opportunities'
Who: Youri, 24 years, lives in Amersfoort, panel builder with ELMA since November 2019
Training: Associate's degree Engineering – Mechatronics at Landstede Harderwijk
Catching them young: Helping his father with technical chores around the house, along with falling under the unavoidable spell cast by Lego Technic, made the choice for pursuing a future technical training easy, even at the young age of 12. Yori was further inspired through the examples of his uncles and cousins, giving him even an extra push-in-the-back for a career in technology.
Hobbies: Gaming and 3D printers
Why panel building? Youri's interest in panel building grew during an internship at MOBA in Barneveld. This was the first time Youri was involved in the assembly of control panels. Although he next worked as a mechanical installation technician for VMI in Epe, his desire grew to return to panel building. This he did in early November 2019, with joining the team at ELMA Systems.
1st of June, permanent position with ELMA:  Seven months ago Youri started as a panel builder at ELMA's panel building department.  Youri's long term whish was to get a permanent contract with ELMA and a placement via Wepro was a great start. The match was easily made since ELMA had the very same intention: to acquire placed engineers. Youri is really happy to start working directly for ELMA as of 1 June. "This permanent position will facilitate a lot of new opportunities, including the possibility for further training and a higher wage. "Now I can finally start thinking about the next phase: my own house!"
Most meaningful moment at ELMA this far: Constructing the very complex control panels for cleanroom cranes, made by a famous OEM in the South of the Netherlands. "A great many things are involved when assembling these panels! The project is extensive and it really is a challenge to maintain a good overview. Also consultation and coordination with colleagues are key. Right now I am working on my third cleanroom crane set-up and each time I have been learning new and important aspects of the control system."