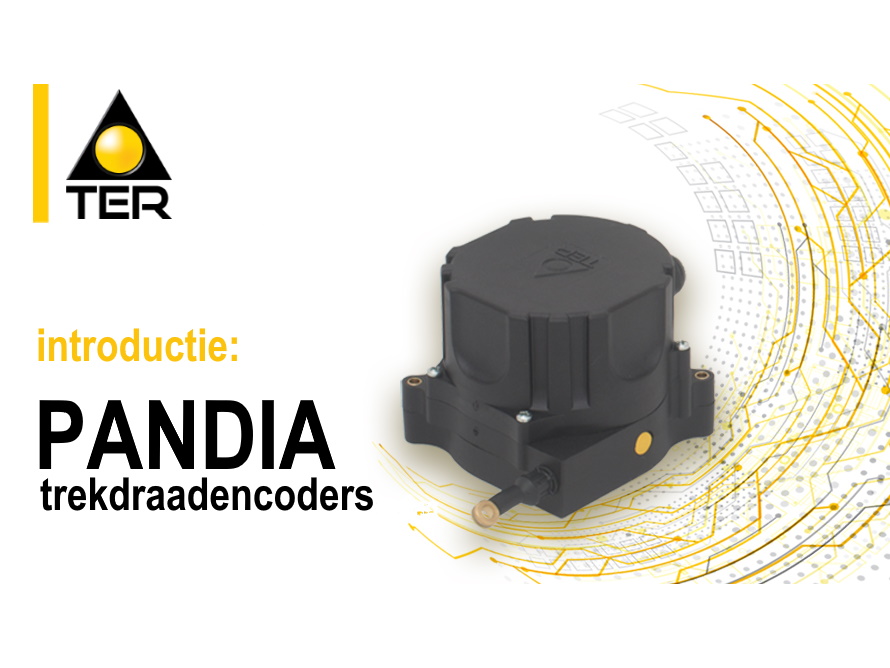 6 February  –  TER introduces draw wire encoder 'Pandia'.
After a series of extensive tests on the 2019 prototypes, TER now officially introduces the new PANDIA draw wire encoder. The Pandia has been developed to measure linear positions and displacements for/within industrial applications and machinery. From now on, the Pandia is for sale at ELMA Components. Price? Starting from 242,- EUR per piece! (ex VAT)
The Pandia draw wire encoder has a sturdy and compact enclosure and is one of the most reliable solutions available for measuring linear positions. The linear sensor offers a variety of mounting options to fit even the most narrow of spaces. The device comes with a techno-polymer enclosure and a draw wire made from high-grade stainless steel. TER offers three lengths of measuring wire: 1 m, 3 m or 5 m. The encoder (at the center of the sensor) offers a 12 bit resolution with a ± 0,35% accuracy and a ± 0,5% linearity.
TER's draw wire encoder guarantees an exceptionally long maintenance-free and reliable service life even in harsh conditions. (up to protection degree IP69K)
De TER PANDIA is available in a normal or redundant version, with 4 … 20 mA analog output or a CANbus digital output. Four relays are used for cam emulation. Depending on the version, the Pandia is equipped with a M16 cable clamp or M12 connectors.
Our colleagues look forward to explain to you the other options, prices and possibilities of the new Pandia. More info and documentation is available at our PANDIA product page.