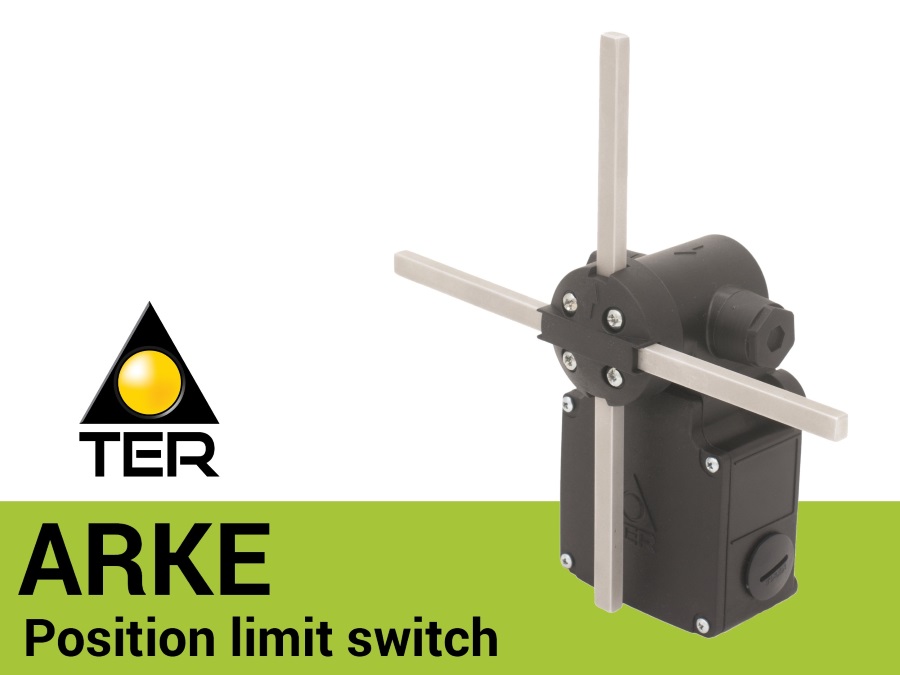 3 July  –  Arke: the new position limit switch from TER, designed for controlling the movement of overhead travelling cranes, hoists and complex machine tools. The sturdy and reliable Arke is particularly suitable for operating in the harshest conditions.
Features:
Designed to guarantee excellent performance in the most challenging operating conditions
2 fixing holes
Positive opening NC contacts for safety functions
Mechanical life of switches: 2 million operations
IP protection degree: Arke is IP65, IP66, IP67 classified (with dedicated cable clamp M20)
Extreme temperature resistance: operational temperatures between -40°C and +80°C
Aluminium rods with 6×8 mm section and enclosure and head in thermoplastic material
All materials and components used are wear resistant and guarantee protection of the unit against water and dust
Options for the Arke position limit switch
Cross rods with 4 maintained positions every 90°, cross or T rods with 3 maintained position every 90°, single rod or rod with roller with 65° movements and spring return
2 slow action switches with 1NC+1NC staggered contacts or 2 slow action switches with 1NO+1NC contacts
3 outputs for cable clamps to reduce installation time and make wiring easier
Elma Components is official distributor for TER limit switches. Click here for more info on TER limit switches or for support from one of our sales engineers.